Growth on demand: outsourcing in purchasing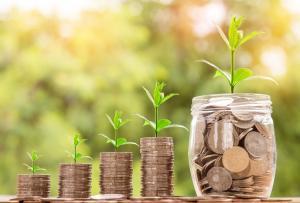 Order books of German SMEs are well-filled. But there is a lack of specialists and manager across all industries. Outsourcing promises growth on demand, keyword scalability. Read in this article how companies can outsource purchasing activities risk-free. And find out why digital transformation without outsourcing is so tedious.
So far, only a few medium-sized companies have fully recognized the competitive advantages offered by today's possibilities of outsourcing business processes (Business Process Outsourcing). In the past, operational business processes were often outsourced to low-wage countries. However, compared to today's possibilities, companies were able to benefit significantly less from outsourcing a few years ago.
Today, outsourcing offers companies enormous advantages and increases in efficiency. For example, the flexibility of costs allows customers to adapt more quickly to changing market conditions. At the same time, outsourcing increases the transparency of purchasing so that the purchasing manager can control his purchasing, including the outsourced processes, much better. In addition to experience, companies benefit from the latest technologies from external purchasing providers.
Adding or cancelling manpower if needed, converting fixed costs into variable costs, benefiting from the latest IT and using outsourcing to control the purchasing better. These are the main reasons why companies outsource parts or their entire purchasing.
In this way, operational ordering processes from ordering to payment (purchase2pay processes) can be passed on to external service providers according to the needs of the company and the market conditions. But the external specialists can also handle strategic purchasing processes from supplier search and supplier days to contract design and cost structure analysis ( source2contract processes).
If companies decide for a partner like Kloepfel Outsourcing, they should pay attention to various factors and also ask themselves uncomfortable questions in times of digital change.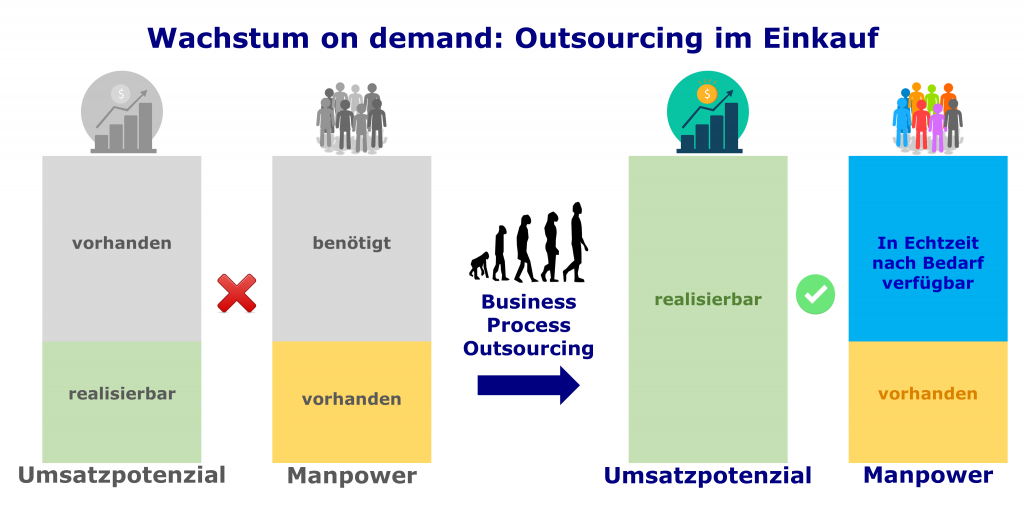 Purchasing control: Trust is good, but control is better
A strong outsourcing partner guarantees the purchasing department full control over all outsourced purchasing processes and data. If the managing director, production or sales manager needs a status or comprehensive reports, the purchasing manager would like to retrieve this data conveniently and mobile just by touching one button in order to explain what happens where, when and why, and how.
But the purchasing manager needs this data sovereignty anyway in order to be able to better predict and manage opportunities and risks for purchasing.
Especially the analytics and big data topics are currently in great demand among buyers. A strong outsourcing partner therefore has a digital infrastructure that can supply purchasing with valuable purchasing data easily, quickly and mobile.
Outsourcing operational or strategic purchasing processes without the data competence of the buyers would therefore only be the half job and would entail the risk of dependencies
Purchasing data: Flying blind through the supply chain
Many medium-sized companies do not maintain the master data of their articles, customers and suppliers sufficiently. It is therefore doubly beneficial to keep an eye on these master data in an outsourcing project.
Only a healthy database provides the basis for strong digital strategies, agile purchasing and an effective supply chain. Without the knowledge of the data, companies grow and operate blindly.
A data cleansing enables the purchasing department to analyze and validate their own master data and to correct or complete incorrect data records. This hard work ensures the best possible data quality in terms of up-to-date, reliable and accurate data. Regular data cleaning with competent partners thus creates the best conditions for a functioning master data management and thus also for a rosy digital future and successful outsourcing.
Agility: Respond anytime in real time
The digital transformation of the global economy is challenging companies to think about outsourcing. The networking of industry 4.0 not only dissolves company boundaries. The world will turn into a place where customers and partners from all time zones expect companies to respond to customer needs and risks in real time. 24 hours a day, 7 days a week. This is made possible by digitalization, for example through access to real-time analyses of data.
Even if your own company does not yet see this permanent readiness today, global competitors will recognize and use the new readiness to act made possible by digitization as a competitive advantage. Then, at the latest, companies which are less agile will have to follow.
In addition, the new digital solutions offer the opportunity to respond to customer wishes in a much more individual way, to develop new business models and to increase productivity.
Start: What can be easily outsourced?
For many companies it can make sense to first test outsourcing in a secure environment. For example, at the beginning of an outsourcing project, simple manual and operative purchasing processes (procure-to-pay) of indirect goods could be outsourced.
For example, recurring orders, order confirmations, follow-ups, complaints about materials for machine maintenance, cleaning materials, office supplies or IT. The partner should closely link these processes with the invoice verification and release of the accounting department in order to avoid friction losses. In any case, a good outsourcing partner will work with you to analyze all processes. In this way, the company processes are optimized on the one hand and made "outsourcing-capable" on the other in order to minimize friction losses.
The outsourcing partner also ensures that cumbersome procurement and approval processes, belated payments and intransparent cash flow are a thing of the past. This in turn relieves the purchasing department.
It is the best for companies to choose a German-speaking service provider where they also have a permanent contact person, so that communication runs smoothly. Then it doesn't matter if the partner is located in Bratislava or Prague, for example.
In addition to the new entrepreneurial freedom to grow as the market demands, outsourcing reduces the lead times of procurement processes, increases systematic data capture of purchasing volumes, creates compliance and minimizes maverick buying.
With the new data transparency and gained time, purchasing can improve its position in the company by taking care of strategic issues such as digitization, purchasing strategies, master data, innovations and risk management.
Once the purchasing department has gained enough experience with the outsourcing partner, they can later outsource further operational and strategic issues. For example, procurement market analyses to check whether improvements are possible through cheaper suppliers or to examine long-term supplier contracts.
Basically, all strategic topics from tenders, auctions, cost structure analyses, supplier days and contract management to annual meetings, procurement market analyses, raw material price information and risk management can be outsourced.
The advantages of Business Process Outsourcing of operational and strategic purchasing activities at a glance:
1. No more bottlenecks for large orders
2. Team power that you can adapt to your purchasing at any time
3. Conversion of fixed costs into variable costs
4. Agile reactions to markets and risks
5. Benefits of synergies (e.g. thousands of already qualified suppliers)
6. State-of-the-art infrastructure for digitization
7. Higher transparency – Better management and control of purchasing
Will i be digitalized away or outsourced?
In this section we would like to provide hopeful answers to the most inconvenient of all questions many shoppers are currently asking themselves. Will I be outsourced or digitalized away?
No, not necessarily.
A medium-sized company or purchasing manager who opposes digitalization or outsourcing because he does not want to endanger any jobs, ultimately risks the jobs of all employees.
Companies that escape digital change will no longer be able to exchange their data with suppliers and customers. The global economy will be digitally networked, those who cannot or do not want to network will lose the connection. Digital companies, on the other hand, must pay attention to agility and speed.
Purchasers who previously carried out a lot of manual work in order to collect and evaluate data from ERP systems and Excel lists will be replaced by software in future. This is no longer a thesis, but a trend.
But what software cannot replace, however, is the interpersonal quality, the experience as well as the strategic and creative thinking skills of the buyers. Only with these human skills purchasing managers have the ability to correctly interpret and utilize the enormous amounts of data digitized with the new analysis tools.
For this employees must be trained in key figures, the various evaluation options from big data to data mining or master data management. The same applies to the new technologies for purchasing, such as sensor technology, the Internet of Things, artificial intelligence, open innovation, lean management or block chains.
Authors
Ilja Kipermann, Kloepfel Outsourcing, Manager, Contact i.kipermann@kloepfel-outsourcing.com
Frank Wischnewski, Kloepfel Supply Group, Group Director Solutions, Contact f.wischnewski@kloepfel-supply.com
Content