Interview: Digital Pricing – Strategic pricing in the digital economy with the 3-level-model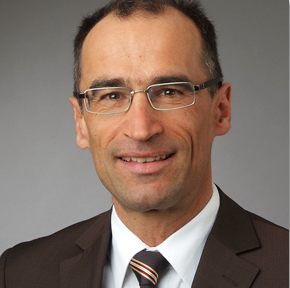 Frank Frohmann, author and pricing expert, talks about "digital pricing" and the associated challenges in an interview with Alexander Hornikel, Senior Partner at Kloepfel Consulting. He also gives first insights into his new book on digital pricing.
What exactly is "Digital Pricing"?
The main idea of digital pricing is the usage of new information technologies and digitalized processes for price management. Digital price management combines two key challenges for corporate success:
1. "Digitalization" as the main megatrend for the development of economies.
2. "Pricing" as the most important lever for the company's profit.
What are the challenges of digital pricing?
Price optimization for company services such as products, services, software, data etc. are preceded by important business decisions. On the one hand, determining the sources of revenue and on the other hand defining customer benefit as the central pillar of the business model. This means that professional price management for digital products must, in addition to pure optimization, also reflect the superordinate decisions regarding the business model and the revenue model. These interactions are becoming increasingly important with the higher digitalization of economic life. The price optimization for e-books in the case of Amazon for example is rather based on the "content" as core of the business model than on the hardware (e-book reader…).
I use a number of practical examples in my book to show that the digital transformation is not about an IT phenomenon or an instrument for increasing productivity. Digitalization is not a project but a holistic process. Digitalization enables new business models, additional sources of revenue, stronger integration of customers in pricing processes, creative pricing models, etc. It influences all aspects of price management and enables innovation across the stages of the pricing process.
Who influenced you the most?
My approach to the fascinating subject area of price management was significantly influenced by my former professor and CEO Hermann Simon as well as by Georg Tacke, today's CEO of Simon, Kucher & Partners. I am very grateful for this early entrepreneurial influence by my first employer.
You have recently published your first book about digital pricing. What can the reader expect?
I dealt with issues of digitalization in projects for B2C and B2B companies already at the end of the 1990s. The extensive experience with digitalization strategies and price optimization is based on three main areas of activity: external management consulting, operational price management and in-house consulting.
My book offers a comprehensive overview of processes and methods of profit optimization for digital offers. Products and services whit changing business model as a result of digitalization are also covered. The decisive factor in digital price management is a broad, customer-oriented perspective. Unfortunately, "digital pricing" is still often limited to topics such as "automated pricing" or "pricing for online channels".
But this would be way too easy. Increasing digitalization is supporting innovations at all three related levels: business models, revenue models and the pricing process. All three dimensions are subject of digital pricing. I show this in my book based on numerous examples from various industries. Included are the big technology companies (like Amazon, Facebook and Apple) as well as start-ups (Flixbus etc.). Industrial companies which face future challenges with innovative digital business models (such as Trumpf, Bosch, Mercedes and Siemens) complete the range of practical examples. A basic requirement for the classification of practical examples is a clear definition of the individual elements of the price management. The reader will for example find a demarcation of "revenue models" and "pricing models" in my book which is derived from practice and that has not been found in the literature so far.
Since customer behavior is the most important influencing factor for profit, especially in the digital age, the perception of benefits and prices has a high priority in my work. Because of that the latest insights from brain research as a "focus topic price psychology" are embedded. Psychological aspects such as "nudging", "anchoring", "loss aversion", "mental accounting" and others are not described as an isolated chapter, but shown directly applicable on the basis of concrete case studies. Innovative pricing approaches are also an elementary component of this book. I dedicate for example a chapter to the creation and implementation of digital pricing models.
For which companies could the topic "digital pricing" be interesting?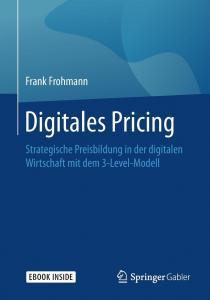 Digital pricing is critical to success for all companies, regardless of industry, location and size. The practical examples that the reader finds in the book also encompass all major industries. I have attached high importance to the presentation of business model definitions as a starting point for digital price management. German companies in particular are finding it rather difficult to develop digitalized revenue and pricing models compared to their competitors in China and the USA. However, the numerous examples of domestic "digital champions" show that the trend is heading in the right direction.
Thank you for the interview!
Win one of five copies of the book "Digital Pricing" by Frank Frohmann and discover numerous new approaches for your company. Just write an e-mail to m.sonntag@kloepfel-consulting.com and with some luck you will soon hold a book in your hands.
Content