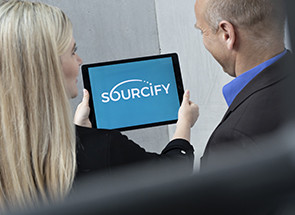 Sourcify.net is revolutionizing procurement market
Hospitality experts from Deutsche Hospitality have set up a joint venture with purchasing service providers from the Kloepfel Group
Field-tested by 350 hotels
Digitalisation of purchasing processes as required
Collaborative sourcing generates direct cost reductions
No risk due to 100% performance-related remuneration
Refinancing through savings
Continuous optimization of purchasing conditions and expansion of product range
Frankfurt on the Main, 06.12.2018 – Deutsche Hospitality has joined forces with supply chain specialists at the Kloepfel Group to launch the Sourcify.net procurement platform. This means that all European hotel and restaurant chains, hospitals, old people's homes and care homes are now able to take advantage of the same cost-effective, professional and digital purchasing processes used by Deutsche Hospitality hotels. Sourcify.net currently offers the definitive solution in this area, and there is no comparable product on the market anywhere else in the sector. 350 hotels from prestigious chains have already adopted the system, which is equally suitable for deployment in the restaurant and care sectors.
Modular system – digitalisation à la carte
In contrast to conventional purchasing companies, Sourcify.net digitally maps every single step from tendering and ordering to goods receipt and invoice verification to materials management, including inventories, recipes and cash register connections. Also the administration of contracts and catalogues as well as the service purchase are integrated. With this digital modular system for purchasing, customers can individually automate their operative procurement processes with Sourcify.net and thus significantly simplify their purchasing.
Purchasing first decides which operative procurement processes they want to digitize. Audit-proof, traceable and transparent.
"This platform offers a unique combination of hotel expertise and procurement and supply chain knowledge," says Lars Schmid, Managing Director of Sourcify GmbH. "The great thing about our platform is that it can be used in the gastronomy, hotel and care sectors and can be implemented in record time. This opens up enormous potential for hospitals, old people and nursing homes, restaurants, canteens and much more."
Simply a superior purchasing option
The Sourcify.net solution can be implemented within an extremely short space of time and is available in 14 languages. An intuitive set-up delivers just as much user friendliness as a modern web shop. The tool is ideal for companies that want to operate decentral but networked – with complete transparency and control of the central purchasing organization. An optional Business Intelligence Tool maintains a full summary of all data relating to orders, stock levels and invoices. The purchasing department is thus able to gain a complete grip of all processes.
Confidentiality is assured
The data, terms and conditions of Sourcify.net customers are processed strictly separately from each other and remain confidential. At the same time, all data is archived in a legally compliant and audit-proof manner.
Pooling effects produce cost savings
Sourcify.net can be adapted to suit client needs. Hotel, retirement home and restaurant chains include their own ranges and decide for themselves which groups of products they would like to purchase together with other users. Each party thus remains autonomous whilst still enjoying access to the digital procurement tools available via the platform. Users are also able to benefit from quantity effects. This principle is as simple as it is ingenious. Sourcify.net works on an ongoing basis to analyse the procurement volumes of interested customers. It then pools these and carries out requests for proposals to facilitate significantly better procurement terms. The range available to this collaborative purchasing group is also being continuously expanded.
Through its partnership with Kloepfel, Sourcify.net offers its customers the opportunity to reduce procurement costs in a targeted manner. The savings exceed the expenditures for sustainable digitization.
"Together, but in an independent company," says Marc Kloepfel, Managing Director of the Kloepfel Group, "we can offer our customers a unique product in terms of expertise, consulting and implementation in the field of digital purchasing."
Tried and tested in practice by renowned hotel chains
Several hundred individual hotels and restaurants have been using Sourcify.net for years. Some of these process all of their purchasing operations via the platform.
The GCH Hotel Group, which operates 120 properties, also appreciates the unique benefits of Sourcify.net: "We have been working with Sourcify.net for a year, and are very satisfied overall. As one of the leading hotel management companies in Europe, we manage a large number of brands under one roof. Therefore, it is very important for us to tailor our services efficiently to the individual needs of our hotel company and to constantly adapt to changing industry requirements. Sourcify.net does all this with competent advice and courteous support that has always been there to help us from the start," explains Denis Karalić, Vice President Procurement of the GCH Hotel Group.
About Sourcify.net
Sourcify.net GmbH is a Frankfurt-based independent software and procurement specialist which offers services to the hotel, catering and care sectors. It is a leading and intuitive source-to-pay platform which combines sustainable digitalisation with an innovative consultancy approach. Deutsche Hospitality and the Kloepfel Group each own 50 percent of Sourcify GmbH.
About Deutsche Hospitality
Deutsche Hospitality unites four hotel brands under an umbrella: Steigenberger Hotels and Resorts with 60 historic traditional hotels, lively city residences and wellness oases in the middle of nature. MAXX by Steigenberger – new, charismatic, the focus on the essentials, according to the motto "MAXXimize your stay". Jaz in the City with hotels that reflect the city's attitude to life and live off the local music and cultural scene. And IntercityHotel with 40 modern city hotels of the upper middle class, each just a few minutes' walk away from train stations or airports. A further 30 hotels are currently under development, bringing the Deutsche Hospitality portfolio to over 130 hotels on three continents.
About the Kloepfel Group
The Kloepfel Group now has over 1,000 clients. It is one of the fastest growing SME full-service providers in the procurement and supply chain management sector in the German-speaking countries and has received multiple awards for the procurement consultancy services it offers. The company employs 250 staff and generates annual turnover in excess of €35 million. €53.6 billion in sales volume has been processed thus far, and 100% performance-related arrangements have been entered into with around 61,500 suppliers from 132 countries.
Press contact
Deutsche Hospitality
Lyoner Straße 25 │ 60528 Frankfurt am Main
Jannah Baldus │ Tel: +49 69 66564-360 | E-Mail: jannah.baldus@deutschehospitality.com www.deutschehospitality.com/en │ https://sourcify.net/ │ www.steigenberger.com/en www.maxxhotel.com/en │ www.intercityhotel.com/en│ www.jaz-hotel.com/en
Kloepfel Group
Kloepfel Group│Pempelforter Str. 50 | 40211 Düsseldorf
Christian Fischer│Tel: +49-152-227-227-50 | E-Mail: c.fischer@kloepfel-supply.com
www.kloepfel-group.com/en/
Content