Globalization and supply chain management
The right selection of procurement markets, procurement channels and suppliers result in a substantial competitive advantage. But companies can encounter major challenges through sourcing globally. Differences in political and legal aspects, language barriers as well as different time zones complicate the development of global procurement. Activities are especially critical when they should take place as cooperation between Europe and Asia.
Further challenges arise from the selection of potential markets and suppliers from countless different possibilities, which in turn can get time and money consuming. In addition, companies must be aware that they must convey quality and seriousness to potential customers in order to gain a foothold in international sales markets. Progressive globalization and supply chain management also pose further challenges.
The implementation of a successful global sourcing strategy in your company helps you to reduce costs in the long term, minimize price risks and secure a more than adequate supply.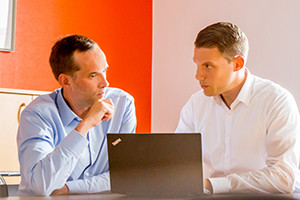 Patrick Esselborn
GeschäftsführerKloepfel Outsourcing
T +49 211 875 453 23
Global Sourcing describes a procurement strategy with global orientation. This includes, on the one hand, the procurement of products or services and, on the other hand, a supply aligned to global sources. Procurement of this kind is today an integral part of the strategic and globally operating procurement policy in companies. In addition to the availability of more modern technologies or more suitable product range, companies gain access to low-cost sources of supply through global procurement. In times of international competitions and economic and financial crises, even SMEs cannot stay away from it.
We support you in international purchasing and help you to successfully implement global sourcing in your company!
Global Sourcing: German Quality – Made in China!
The list of good reasons to procure globally is as long as the Great Wall of China: low prices, shapeable suppliers and local customers. Buyers who are confronted on a daily basis with procuring the best goods at the best prices are therefore increasingly relying on China. But often the quality standards of the West are a stumbling block for some businesses. Should German buyers nevertheless dare to look at the People's Republic? Yes!
Experience has shown that this is worthwhile if one works against the most frequent risks through continuous quality control and supplier development: Insufficient product implementation, unpunctual deliveries and other annoyances can be avoided by a deeper understanding of culture.
Chinese society is characterized by strong hierarchies and a belief in personal relationships, which is also reflected in corporate cultures. Here, it is difficult to implement total quality management when those responsible fear "losing her face" through controlling. If you want to build a business relationship, you must plan one thing above all: trust and the time to win it.
Because in China the principle of "Guanxi", the personal network of trust, applies. This only exists from person to person and cannot be transferred to entire companies. Therefore, it requires a very specific Supplier Relationship Management (SRM). This relationship is also particularly valuable because as a trusted person you can be introduced to other contacts with whom it is easier to establish a business relationship. In China, contracts, quality and supply agreements are more regarded as guidelines and not necessarily binding. It is more important to use mutual favors. If you ask for something, you have to return an equal favor. Anything else would be a serious insult that can also disrupt a business relationship. Maintaining your Guanxi network for sourcing is therefore a task that should not be underestimated.
Then it will also be easier to implement measures against bad quality: Without supplier management, nothing should happen here. Another way is dual sourcing: relying on more than one supplier from the People's Republic can compensate for failures and bottlenecks. In the search for suppliers, an evaluated audit should take place before the selection. And above all: Once you have found the supplier of your choice, you need constant and strict quality control. In this way, economic developments such as rising prices and low purchase volumes can be effectively counteracted without having to compromise on quality "Made in Germany".
Global Sourcing: Example China
10 Points checklist for successful procurement in China
There are a lot of suppliers for nearly every product in China. But who is good and reliable? The fundamental difference between European and Chinese industry lies in the time window. Most industrial enterprises in today's Europe are the remaining enterprises from a constant selection for many decades. In China, however, most industrial companies have only been on the market for a few years – in a time of booming economy. Everything is needed. It is not a big deal to build a business. The wheat is not yet separated from the chaff. Nevertheless, there are many high-quality companies that are unparalleled even to European companies. The following ten points should be considered when purchasing in China:
1. Research as many potential suppliers as possible in various ways – databases, internet, trade fairs, trade journals, personal recommendations, etc. This results in a wide selection.
2. Collect information about these companies (publications, internet, websites, recommendations, trade fairs, journals, etc.). Tip: Use the China Tracker from Brown & Miller.
3. Sorting out obviously bad companies.
4. Correspondence with the remaining companies, enquiries and request for offers with supplier evaluation.
5. Part of the remaining companies shall be removed from their data and the way in which they react to the request. It should be noted that the cheapest are rarely the best.
6. Make telephone calls with executives of the remaining companies. Precise description of quality requirements, deadline requirements and controls.
7. Order product samples. Only when they fit, the company comes in the last selection of companies to visit.
8. Visit the few remaining companies (only the 2-3 best). A visit before the first deliveries is very important, only on site you can see the true character of a company. During the visit, final details and a first larger trial delivery will be discussed. If problems occur at one company, you can switch to the second company.
9. If the first trial delivery has been successfully completed, a final acceptance should be carried out. Depending on the sensitivity, by random sampling or for all products, before packaging and before loading into the container. Local quality assurance companies monitor that only tested and approved goods are loaded into the container. The staff leaves the yard only after departure of the truck with the sealed container. If possible, they order the forwarding agent so that the supplier cannot have access to goods that are already loaded. Only then is the acceptance report signed, which, together with the ship documents, leads to the release of the purchase money. This is stipulated beforehand in the contract or letter of credit. The supplier does not like this, but it is very important.
10. The last point is to be repeated regularly or even with each delivery. This is the only way to ensure that consistent quality is procured from China.