Düsseldorfer purchasing consultancy celebrates its 10th anniversary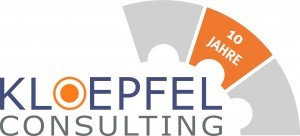 Düsseldorf, July 13, 2017 – 10 years Kloepfel Consulting, 10 years performance-related purchase consulting from Düsseldorf. For this, the medium-sized service provider said "100% THANK YOU" to its customers, employees and business partners on Thursday.
Around 500 guests honored the managing directors Marc Kloepfel and Duran Sarikaya on this occasion. The event started at 6 pm on Thursday, July 6 on the banks of the Rhine, with a reception on the event ship "Oceandiva Futura" – accompanied by saxophonist Esther Klever.
On the boat, which departed at 8 p.m. for the one-and-a-half-hour round trip, cabaret artist Jess Jochimsen, the live band Cosmic Sugar and DJ Daniele provided a festive atmosphere alongside keynote speaker and member of the advisory board Dr. h. c. Wolfgang Clement (former Federal Minister). Between the two show-blocks the guests could help themselves at internationally oriented live cooking stations and thus enjoy the further evening strengthened.
"When it came to where our anniversary celebration should take place, there was no other place for us than Düsseldorf. The fact that we celebrated on a boat on the Rhine gives the event of course a special touch," says Duran Sarikaya, also Managing Director of the consulting company.
So a successful celebration ended on a warm Thursday evening. Marc Kloepfel and Duran Sarikaya are looking forward to the coming period: "We would like to thank all our employees and customers for their loyalty over the past ten years and look gladly forward to the future of Kloepfel Consulting.
About Kloepfel Consulting
The purchasing consultancy Kloepfel Consulting is an implementation-oriented consulting company based in Düsseldorf. The core competence lies in procurement optimization and cost reduction for production, trading and service companies. The aim is to increase our customers' return on sales. With over 700 clients, Kloepfel Consulting is one of the fastest growing consulting companies for purchasing optimization for German-speaking medium-sized businesses. Till this day, more than 8.7 billion euros purchasing volume have been processed and around 70,000 suppliers from over 132 countries have been qualified and negotiated on a 100% basis of success.
Press contact
Kloepfel Consulting GmbH
Christopher Willson
Pempelforter Str. 50
40211 Düsseldorf
P: +49 211 / 875 453 23
c.willson@kloepfel-consulting.com