Kloepfel Consulting awarded with Best-Of Seal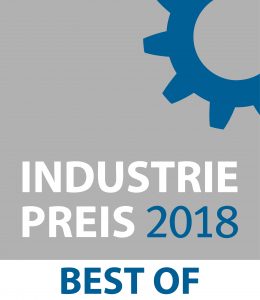 Düsseldorf, April 3, 2018 – Kloepfel Consulting was again awarded with the Best-Of seal of the industry prize in 2018. For the management consultancy, specializing in purchasing, this is the third award in a row.
The industry prize is awarded for the 13th time by Huber Verlag. The finalists of the prize are judged by an independent panel of experts consisting of professors, scientists, industry representatives and trade journalists. Besides the 14 main winners, Kloepfel Consulting was awarded in the category Best-Of and can use the seal for new messages and media.
In order to receive an award, certain criteria must be met, including above all technical progress (product maturity and future orientation) and economic, social, ecological and technological benefits.
The industry prize is awarded annually, coincident with the start date of Hanover Fair, which takes place from 23-27 April this year. Each certified company receives a certificate and signet, the winners receive a trophy and a marketing package with which they can present the award effectively.
Kloepfel Consulting Managing Directors Marc Kloepfel and Duran Sarikaya thank their employees and customers. For them, the award is an important confirmation of the sustained success and an important resonance for the company's performance.
About Kloepfel Consulting
The purchasing consultancy Kloepfel Consulting is an implementation-oriented consulting company based in Düsseldorf. The core competence lies in procurement optimization and cost reduction for production, trading and service companies. The aim is to increase our customers' return on sales. With over 700 clients, Kloepfel Consulting is one of the fastest growing consulting companies for purchasing optimization for German-speaking medium-sized businesses. Till this day, more than 8.7 billion euros purchasing volume have been processed and around 70,000 suppliers from over 132 countries have been qualified and negotiated on a 100% basis of success.
Press contact
Kloepfel Consulting GmbH
Christopher Willson
Pempelforterstr. 50
40211 Düsseldorf
P: +49 211 / 875 453 23
M: +49 152 / 227 227 93
F: +49 211 / 882 594 20
c.willson@kloepfel-group.com
www.kloepfel-group.com