Kloepfel Consulting awarded "Best Consultant" for fourth year in a row
Düsseldorf, April 15, 2019 – For the fourth time in a row, Kloepfel Consulting GmbH has received the "Best Consultant" award, which honors the best management consultancies in Germany every year.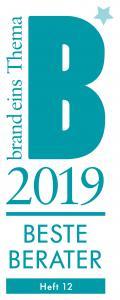 The award is presented every year in April by the business magazine brand eins and the statistics portal Statista. The nominated companies are selected on the basis of recommendations from other consultants and customers. On the basis of a detailed two-part survey, first consultants are interviewed as industry representatives and then company representatives as customers. More than 1,800 partners and employees of management consultancies completed the questionnaire and evaluated their colleagues. In a subsequent online survey, around 1,500 executives described their experiences with the respective consultancies. The "Best Consultant" award is thus regarded as one of the most representative studies on the German consulting market.
"This year, too, we have succeeded in convincing our customers of our performance and raising many purchasing departments to a new level. The fact that we have now been named "Best Consultant" for the fourth time in succession is proof of the efficiency and success of our work. We are proud not only of the award, but especially of our employees, who do an outstanding job week after week together with our customers. I would like to thank our entire team, our loyal customers and, of course, the organizers of the award, brand eins and Statista," says Marc Kloepfel, Managing Director of the Kloepfel Group, delightedly.
"The joy about such an award is of course great, but we will not rest on our laurels. Instead, we would like to use the award as an incentive to achieve even better results on our projects and also to live up to the title of "Best Consultant" on future projects. If we take this drive for action with us and implement it in the long term, we will no longer only be among the best consultants in the future, but will also be the best consultant," says Duran Sarikaya, Managing Director of Kloepfel Consulting.
Press contact
Kloepfel Consulting
André Vollstädt
Pempelforter Str.50
40211 Düsseldorf
T: +49 211 / 882 594 17
a.vollstaedt@kloepfel-consulting.com